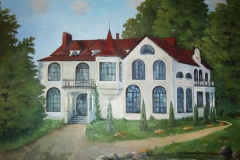 History of the Manor House
The history of the Building dates back to 1870. The owner of the House executed the art nouveau design of the Manor House that became one of the most characteristic sites in Gdynia. During the XX th century, the Building was functioning as the Rest-House offering its guests accommodation in beautiful scenery. Then worse times came and it was devastated. Nowadays, after being fully restored in 1991 and 2007 according to the very high European standards, the architectural style of the House comes back to its original shapes, keeping inside the secrets of over 140-year-history.
Manor House "Mitro" is a wonderful place to come and is an ideal starting point as well for the guests looking for peace and contentment, and active tourists willing to visit all the attractions of the Tri-City.
Ideal location:
3,5 km from Polish Movie Awards Theatre and Sailing center in Gdynia,
8,0 km from the best Polish summer resort Sopot,
20,0 km from old-fashioned and charmful Gdansk
One of the parts of the Manor House is a wonderful restaurant, which serves meals that tempt the eye and amaze with taste all day long. There is also a banquet room built in a castle cellar-like style and a crammed with alcohols drink-bar.
The House is ready to accommodate up to 33 guests in 16 comfortable rooms and apartments.
Every room is equipped with:
Access to the Internet
Full sanitary system.
All of the guests have at their disposal a nearby guarded car park free of charge.